Portfolio
Samples of Web Sites, Logos, Image Corrections, Flash®, and Small Animations we have Designed over the years;
We can't obviously show you each and every project we have worked on, and we will certainly try to update this side of our website as we go along.
Again, we're trying to give you as much detail as possible on – and this is the main idea behind this page – the balance between the work provided and the cost it has incurred their respective owner.
Another word, we would like to give you an idea of how much a project may cost you.
Some work may appear very expensive when they're not, and vice-verso. 🙂
---
Web Design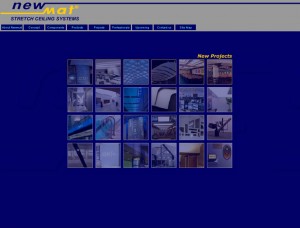 Newmatusa.com now newmatworld.com (Since 2000) is a corporate style web site that focuses on the pictures of its completed projects.
A professional area with username and password was created for Architects, Light Designers, and professionals alike to view the more technical parts of this stretch ceiling systems business such as detailed Auto-CAD (shop-drawings) of its different products and systems, and their downloads.
Several forms are also available to the viewer for specific requests such as Catalogs, 3D Drawings, Support, etc..
This web site has been in the work since 1999 with consistent additions of their latest completed projects, and according to its owner, thousands of dollars of well invested money, because of the time and important data it has been saving him.
We have passed the $100,000 US Dollar Mark
---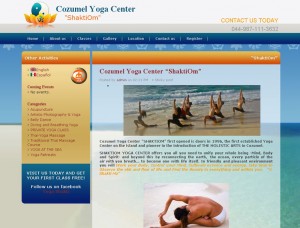 YogaCozumel.com (Since 2009) is a Free Spirit Style Design.
We used WordPress Engine to Power it; Selene (The Owner) has the ability to update it at will without having to call us each and every time. WordPress is more and more popular for creating websites – WordPress helps you update a website without knowledge of code, it natively handles most of search engine optimization (SEO) – YogaCozumel.com is #1 in Google for the term "cozumel yoga", actually in 7th. position of the first page (at the time of writing this) if you type only "yoga", which is quite an accomplishment!
Bravo Selene!
Felicidades!
We only charged $400.00 US for the implementation and the design of the site – Selene already had content for it – She's also been enjoying our full support for over 2 years now – 1st. year was free, her second a $100.00 instead of the usual 120 because the economy has been difficult here in Cozumel this past couple of years.
Selene has contracted our maintenance package ($100.oo US / Year).
---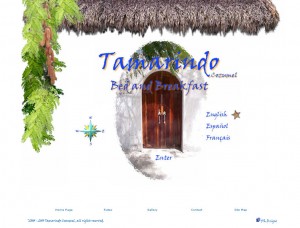 TamarindoCozumel.com (Since 2007) is a "Photo-Montage" Style Design, entirely written in xhtml1 -although transitional, it converts perfectly into strict xhtml.
Eliane (The Owner) did not care to update her own web site, she prefers taking care of her bed and breakfast which keeps her plenty busy.  She sometimes takes her own pictures, sometimes leaving it up to us. She's very much depending on this web site to generate reservations and needs good SEO. The site actually scores 7th in the first page of Google for the key-phrase "cozumel bed and breakfast".
As you may be able to see on the image here, it is in the 3 most spoken languages on the island. The web site cost of production for the past 2 years has reached around $1,000.00 US, (a little over 12,000.00 pesos M.N.). Eliane has recently asked us to re-design it, we understand that looking at the same web site on a daily basis for several years can get to you 🙂 The revamping is being estimated at around 4,000.00 pesos M.N.
Tamarindo Bed and Breakfast has now a new Design.
---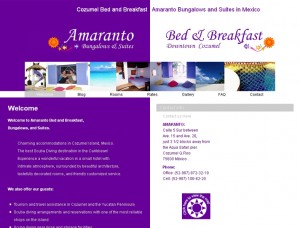 AmarantoBedandBreakfast.com (Since 2007)
Jorge Ruiz-Esparza wanted something different…
He certainly did not want a static web site anymore. 🙂
We chose WordPress again because it fitted perfectly Jorge's needs. He now enjoys uploading his own pictures, automatically tweeting from his website, keeping record of his clients, and getting reservations directly from his contact form to his Blackberry.
The site actually scores 6th in the first page of Google for the key-phrase "cozumel bed and breakfast".
We charged Jorge only $400.00 US, we gave him the transfer of the domain name and the space on the server for free just for moving his site with us at HostingMotion.com 🙂 Good Deal No!?
---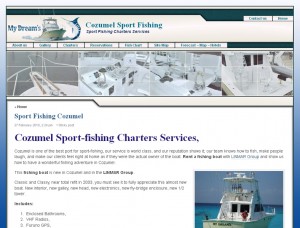 SportFishingCozumel.com (Since 2009)
And Yes 😀 another one powered by WordPress engine lol.. We do like it and it shows, we do believe in its native way to deal with search in general. It's actually difficult not to do well with search, because it is made to be actualized often, because it is easy to actualize too, therefore fresh info should come out of it… if not, it will go back down the search pages eventually.
So all I have to do is get WordPress for my next website "et voilà"! No!
They're still things that WordPress doesn't do natively, not many I have to say, still some xtra h1 tags that can get in some page(s) perhaps, when only one should suffice..
It is also a good idea to keep it to the latest version.. It is definitely recommended, and not only by us.. It does not do this by itself although.. Almost!
Concentrating on one (1) subject at a time is important… avoid mixing things in one page, even on one site… etcetera..
---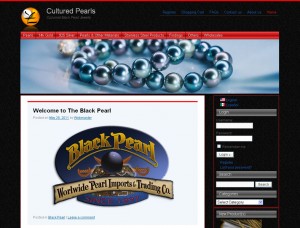 Cultured-Pearls.net – (Since 2010) Another important one for us..
---
More coming soon…
---